"Kashi Marnanmukti" grandeur reaches The President

New Delhi,, May 17th, 2012
Manoj Thakkar author of book Kashi Marnanmukti is invited in Rasthrapati Bhavan by first women President Smt Pratibha Patil. Book is based on releasing beautiful secrets of human life through spiritual philosophy. On this occasion Her Excellency said that spiritual energy transmits energy to a nation and Kashi Marnanmukti describes spiritualism deeply. Praising members of United Works Corporation (UWC) she said only young generation can bring nation forward. She also admired the fact of contributing all sale proceeds for social cause.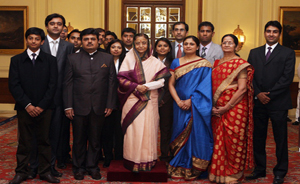 Kashi Marnanmukti's author Mr. Manoj Thakkar and Ms. Rashmi Chhazed (Gadiya) has a good command on writing enigmatic subject like spiritual philosophy which only can be possible with deep knowledge of subject and self realization. Although being it an enigmatic subject they made it easy to grasp. The book narrates story of Maha (Protagonist) an executioner who in search of his guru, finds his real meaning and finally attains the salvation.
Manoj Thakkar is a unique social worker and contributes his day's maximum time in guiding youth and solving daily life issues. In his view today's youth must be listened well and direction to them is only possible in their language, being friendly and through right path. Shri Thakkar is Science graduate and studied 27 subjects by his own; he has good authority in philosophy, psychology, Macro Economics and business law. He always inspired his students to channelize their energy towards creativity. He believes that youth of our nation can bring significant changes in society and this belief became self confidence of his students. Students started following him as disciples and he is loved as their Guru. UWC is a commercial organization started by Mr. Thakkar's students.
Publishers and authors has noble thought the proceedings from this book shall be utilized for social cause. Recently Shiv Om Sai trust has initiated the use of funds by buying a land in indore for intensive care of Mentally retarded children through International level Care facility. Authors claim that this book is purely a grace and they are chosen as medium to write the book and all the content and funds shall be utilized for development of Society.