Novel 'Kashi MarnanMukti' presented to Mr. Narayan Murthi.

Bengluru, October 27, 2010.
Kashi MarnanMukti A book wriiten by Mr. Manoj Thakkar & Ku. Rashmi Chhazed presented to Infosys founder Shri Narayanan Murthy in a simple function at his office in electronic city of Bengaluru. On the occasion Mr. Murthy said that after the long era of Poverty India is now standing as an economic power and we are really lucky in this sense, whatever we do, shall be done with sincerity, honest & positive attitude. He thanked author for giving him opportunity to withstand Bharat Ratna Ustad Bismillah Khan, as author's first book 'Pran Kavya' was released by Khan Sahib. At this occasion members of Shiv Om Sai Prakashan were present along with Authors.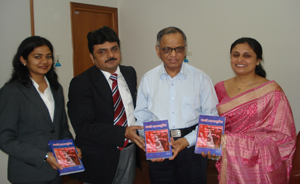 The story of Kashi MarnanMukti is based on the life of its protagonist "Mahamringam" (Maha) who in the course of his spiritual journey to find his Guru, finds enlightenment and touches the height of divinity. The work is permeated by what may be called as the zenith that a man can touch during his life span, irrespective of the background to which he belongs.
The traveller walking on the path of sadhna comes to know that life is a series of birth & death. He knows that in each moment that he lives, he is dying too. And so for him life is a celebration and so is death.
Kashi Marnan Mukti, a sanskrit verse which means that a soul leaving the mortal body at Kashi comes out of the cycle of life & death.
In true sense, the kashi that leads every mortal being to mukti lies within him. The fog of a winter morning at Kashi eludes a devotee from the darshan of Kashi Vishwanath. The devotee moving towards the jyotirling crosses each of the screens of fog to view the premises, the garbh grih and darshan of the jyotirling completes his journey and this discloses the real meaning of OM.
It is same with the kashi of human conscious, covered within several layers of maya. But a yogi travelling on the path of sadhna completes his journey towards within and crosses several screens of maya and gets the darshan of Kashi Vishwanath within his own self. This is the moment of realization when the light of the divinity /almighty takes away all the dualities and sees the oneness of himself and Kashi Vishwanath. This is Kashi MarnanMukti.
It was informed by Publication house that book was released by Smt. Indu Jain, Times Group Chairperson in last month, since then book got good response and already been sold to number of Institution & Industries, few of them are buying it as Diwali gift to employees. They are even pleased to inform that proceeds from this book will go to social benefits.