kashi marnanmukti II edition launched by Dr.Shashi Tharoor

New Delhi, Thursday, 10th June, 2011
The second edition of the Hindi novel 'Kashi Marnanmukti' was released by Member of Parliament Dr. Shashi Tharoor. The authors of the book Shri Manoj Thakkar and Ku Rashmi Chhazed, were present along with the members of Shiv Om Sai Prakashan. 'Kashi Marnanmukti' is a Philosophical novel based on the life of its protagonist, 'Maha', a Chandaal who touches the spiritual height of Buddha and of his spiritual journey in search of his Guru. The book draws it base from the doctrines of the Indian religious scriptures such as the Vedas and the Purans presenting it in a story narrative form, also bringing into light true meaning and importance of Guru in one's life.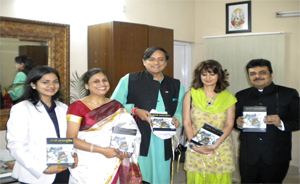 He appreciated Mr. Thakkar's team and his vision in channelizing the energy of the youth and agreed that such synergies on a nationwide basis can change the face of India. The author revealed the true meaning of Dharma and Hindu Philosophy which exhibits the true way of living life, but unfortunately people do not realize the importance of the same, which is the reason of mental stress and depression in today's world. He twitted about the release on http://twitter.com/#!/search/realtime/kashimarnanmukti ; He insisted on the English translation of the book as the Western world & English readers would also be benefitted by feeling the depth of our Hindu philosophy.
This first edition of the book was published in September, 2010, and was released by Smt. Indu Jain, Chairperson of the Times Group. The book has received immense appreciation and accolades from critics and has been embraced widely by all segments of readership. The book was also appreciated by eminent personalities and authors like Shri Narayana Murthy, Shri Shrikant Upadhyaya, His holiness Karmapa, Dr. Kashinath Singh and many more. The book has also been added to a selection of various Public, Private and University libraries across the various countries.
All the proceeds from this book are utilized for social causes i.e. for mentally challenged children, poor children's education and marriage and for construction of an oldage home by the Shiv Om Sai Trust.