"Kashi Marnanmukti" spreading the source of knowledge of Hinduism and Buddhism.

New Delhi, November 30th, 2011
The well acclaimed Banaras based Hindi novel, Kashi Marnanmukti, written by Manoj Thakkar and Ku. Rashmi Chazzed was presented to His Holiness Dalai Lama here on Wednesday. Mrs. Rinku Thakkar along with members of Shiv Om Sai Prakashan and United Works Corporation from Indore were also present on the occasion. His Holiness acknowledged the book and said he always believed in such book which helps in spreading real source of knowledge of religions like Buddhism, Hinduism and others.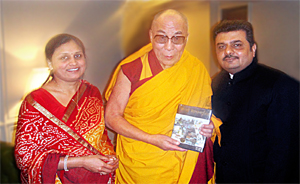 His Holiness said "only true religion can bring about peace and put an end to the war". He also appreciated the fact that so many people spiritually follow Shri Manoj Thakkar and his book is a great spiritual contribution.
He said books with such sort of spiritualism always appealed to him and was happy that it is based on a soulful and energetic place like Banaras.