The Book 'Kashi Marnanmukti' awarded by Vishnu Tirtha Samman for Best Spiritual Novel

Indore, October 27th, 2012
27Oct 2012, Indore, In the memory of Swami Vishnu Teerth his Disciple Swami Shivom Teerthji had started 'Vishnuteerth honor' since 2000 with a motive to promote/ encourage world's best spiritual thoughts, practices and literature. This year author Mr. Manoj Thakkar and Ms. Rashmi Chhazed (Gadiya) received this honor for their book 'Kashi Marnanmukti' by Congress General Secretary and Ex- Chief Minister Madhya Pradesh Mr. Digvijay Singh, the chief guest of the function. On this occasion he said he first met Swamiji in a hut and inspired him towards spiritualism. He added that materialism had suppressed spiritualism in current phase of society and youth today is merely following materialism and this may lead to cultural crisis. There are many saints who practice spiritualism and yet away from media. He also said that Author Thakkar without cladding orange cloths inspiring the balance of materialism and spiritualism which is an inspiration for everyone of us and his work for youth is appreciable. Appreciating Vishnuteerth Samiti he added that this work is really good to promote the spiritual writing.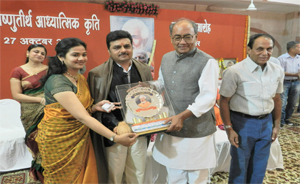 Honored with Tenth 'Vishnuteerth Honor' Mr. Thakkar and Ms. Rashmi received Rs. 51000 and Certificate of honor. Mr. Thakkar in refrence to book said that Kashi is our body and actualization of one's self is real salvation. To live it is important to breath and one need not to put any effort to breath, if this important work can be automatically done than without ego nothing is impossible. It is nothing but the grace that he got Shirdi Sai baba as guru. Co-author Rashmi said that 12 year ago when Mr. Thakkar inspired her in life since then it was her new birth. Being an author of this book was amazing experience and blessing of Mr. Thakkar only.
Two years ago when book was released both the authors chose not to sale the book and shall utilize all the proceeds of the book for a social cause and with the same thought they donated this award money for the same purpose to Shiv Om Sai Trust. Shri Thakkar contributes his time with his students to guide and motivate them besides the writings. He has strong faith that the youth of our nation can create great changes and he is doing his bit in nurturing them.
Kashi Marnanmukti is a philosophical novel which is based on the journey of protagonist 'Mahamringam' (Maha) which inscribes the journey of this executioner at the greatest height of human kind. This spiritual novel beautifully describes the non-duality of a Guru and a disciple.It says when a disciple completely surrenders himself to a teacher without ego and when he continuously follows this path, then gradually all the differences or dualities between a Disciple and his Guru fades away and they coexist in the state of non-duality where Guru is disciple and disciple is Guru. Author believes that this book is a grace of Lord Kashi Vishwanath & blessings of their Gurus and they are just the medium for this creation. There only motive is to spread this grace to most of the people.