The President of Mauritius, Sir Anerood Jugnauth Released Indian Novel 'Kashi Marnanmukti'.

Tuesday, 13th December, Mauritius
The 3rd edition of 'Kashi Marnanmukti', a hindi philosophic novel based on the spiritual journey of a Chandaal (an executioner) was released by the President of Mauritius, Sir Anerood Jugnauth at an event in a private gathering held in Mauritius on 13th December.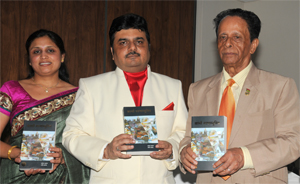 In his remarks, The President noted that the quality matter of the book will help the world for understanding oneself. The President also conveyed his best wishes to the publishers group which is proactively devoted towards uplifting the disadvantaged and disabled people in India by utilizing donations and revenue of this book towards old age homes and mentally challenged children. Such an appreciation from the president of a foreign nation is a matter of real pride and honour for India and Hindi literature.
The novel which is written by Shri Manoj Thakkar and Ku. Rashmi Chhazed is a story based on the life of its protagonist 'Maha' who in the course of his spiritual journey to find his Guru, finds enlightenment and touches the height of divinity. The novel includes messages from Vedas, Puraans and Upanishads which seem difficult to comprehend to today's generation in their original form while here that same content is much more understandable since it is available in a simpler narrative form like a story.
The novel signifies aloud that you are born to realize that you and the energy that created thou are inseparable. 'Guru, god and self are one'. The work is permeated by what may be called as the zenith that a man can touch during his life span, irrespective of the background to which he belongs. The novel covers the philosophy of many great thinkers like Sant Kabir, Tulsidasji, and Chanakya. It throws light on the guru-shishya relationship which in actual sense has lost its meaning in today's material world. Guru is the wisdom light who makes our way through the inner darkness to lead our path towards the final destiny since "Guru, God and Self are one". Being a Guru you can only, lead the way of millions of students who are in their journey for the search of eternal truth finding their ultimate destiny. The President also congratulated the author Shri Manoj Thakkar who has been performing the role of such a Guru to his disciples, enlightening them with his wisdom since long.
The book release function witnessed the presence of The Vice President of The Republic, Mr. Raouf Bundhun, The Minister of Arts and Culture, Hon. Mr. Mookhesswur Choonee, The High Commissioner of India, Mr. T. P. Seetharam and other eminent personalities along with the members of United Works Corporation and Shiv Om Sai trust. The book has been published by Shiv Om Sai Prakashan, Indore and book has already been a huge success as this is the third edition in first year itself, which is unprecedented for a Hindi novel.